When it comes to cutting your cords you no longer have a cable box or satellite box to provide your programming.  Instead, you will need to decide what streaming device to get.  Streaming devices allow you to view your online programming on the television.  You can view almost all streaming services on your computer but most people want a bigger screen, especially when it is time to "Netflix and Chill".  Here are some of the major streaming devices.
Chromecast

Chromecast is Google's entry into the streaming device world.  Chromecast allows you to stream anything from your Chrome browser on your computer.  You can also stream most services from your phone to your television.  That means that you have to have the service running on your phone.  It doesn't have to be in the foreground though.
Google recently released a new premium Chromecast.  This device is known as the Chromecast Ultra.  It allows you all the same features but in 4K, HDR at very fast speeds.
Fire TV
Amazon has two streaming devices that are currently on the market.  The first is the Fire TV Stick.  This device plugs into the back of your TV via HDMI with a USB power supply.  The other is the Fire TV itself.  The main difference between the two is that Fire TV has HD streaming and can be plugged in with an Ethernet box.  It also has a box instead of a dongle.
Both devices allow access to a large amount of apps from streaming services to games.  Here are just a few of the popular services it can stream:
HBO
Netflix
Sling
Amazon Video
Hulu
Roku
Roku is one of the first streaming devices out there.  It is available in 6 different models and in addition to that you can also get televisions with Roku streaming built in.  Not only does Roku have age and experience going for it, it also has a great selection of apps and a device for every person.  From regular streaming to 4K HDR streaming there are options out there with Roku.
Here are some of the streaming services you can find on the Roku:
HBO
Netflix
Sling
Amazon Video
Hulu
Fandango Now
Google Play
Crunchyroll
Apple TV
With a lot of the other major companies getting into streaming, Apple had to provide their own entry into the arena, Apple TV.  Apple TV is a streaming box that you plug into your television.  Its main purpose is to stream iTunes content to your television.  It is also equipped with apps though so you can watch some of the major streaming services through the device.
Take a look at some of the apps you can stream with:
Hulu
DirectTV Now
Netflix
YouTube
Sling
Nvidia Shield TV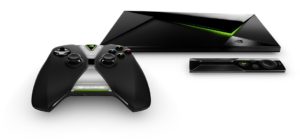 While originally meant to be a device for gamers the Nvidia Shield TV has remarkable power.  It allows you to stream games from your compute right to your living room.  Why shouldn't it be able to play your favorite movies and television shows too?  Well it can!  Because most of the Nvidia Shield TV features run on Android TV, you can use the Google Play Store.
Along with the Google Play Store come a selection of streaming apps that are designed to work with the Nvidia TV.  There are also services available that allow you to stream live TV directly to your Shield TV.
Netflix
PlayStation Vue
Sling TV
Vudu
YouTube
Xbox and PlayStation
Both major competitors in the gaming console world offer streaming services through their devices.  Xbox and PlayStation offer relatively the same services.  The one major noticeable difference would be that PlayStation has PlayStation Vue which is a full streaming service and in addition it streams live television channels.  You can completely cut the cord with the ability to watch live TV from your console.
On both devices you will be able to stream:
Netflix
Hulu
Amazon Prime TV
YouTube
These are some of the top entries in the streaming device world currently.  There are also plenty of televisions with different built in smart features allowing you to stream directly from the television without another device.  Let us know what device you use and/or want.  If it isn't on this list, maybe we will add it.